Enclosed Gearing
Engineered for Reliability
Dodge enclosed gear products deliver industry-leading performance in some of the most demanding applications, featuring innovations that provide customers maximum up time with less maintenance.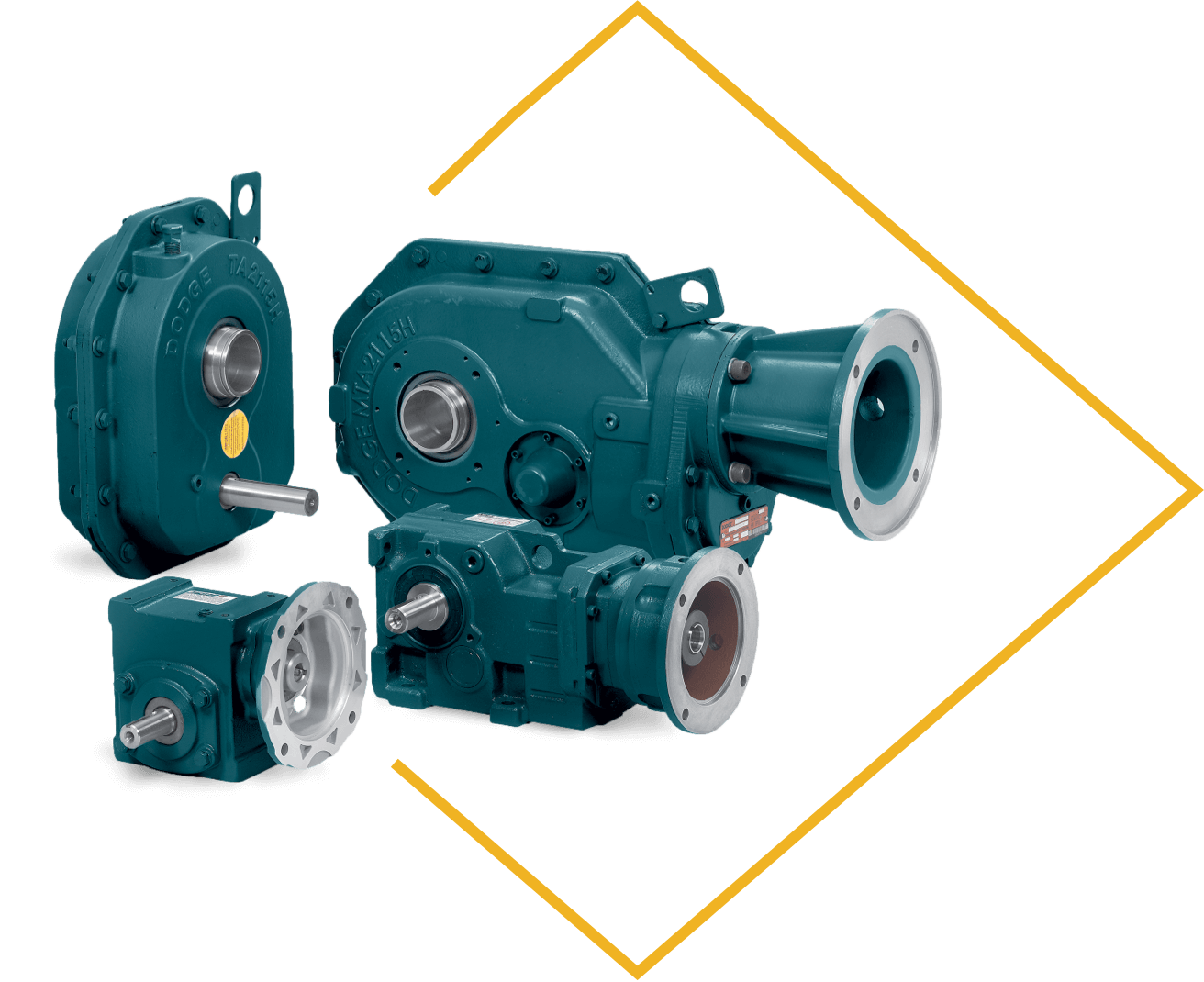 Torque-Arm
With 60 years of proven dependability and more than 1.8 million units in service throughout the world, Dodge Torque-Arm speed reducers are the standard of the industry and the benchmark to which others are compared. The TXT Torque-Arm is a shaft mount helical gear reducer that mounts directly to the driven shaft with multiple accessories available to produce versatility, cost savings, and long life. A long list of standard features makes this reducer suitable for a wide range of environments, right off the shelf.
Select the right gear reducer for your application
Explore the catalog
Quantis
The Dodge Quantis Product Line is a modular gear drive engineered for flexibility and power density in a compact housing design. A wide variety of mounting configurations and accessories make the Quantis an ideal solution for many industrial applications. Stainless steel and the exclusive E-Z Kleen finish are available for tough washdown applications.
Select the gear reducer for your application in our Quantis Configurator
Motorized Torque-Arm II
Dodge Motorized Torque-Arm II shaft mount reducers deliver longer life in demanding applications. Designed with a patented harsh duty sealing system, twin tapered bushings, and the highest torque rating per case size, these reducers provide maximum reliability with less maintenance to increase operating time and lower total cost of ownership.
Select the right gear reducer for your application
Explore the catalog
Tigear-2
The Tigear-2 line of single reduction, right angle worm gear reducers has been engineered to provide maximum value and durability. Shipped from the factory filled with H1 food grade synthetic lube and a ventless sealing system, the Tigear-2 requires no routine oil changes. An overhung load capacity that is unmatched in the industry provides long life in conveying applications. The exclusive E-Z Kleen finish and food safe stainless steel are available for tough washdown applications.
Explore the catalog
Maxum
The Dodge Maxum XTR reducer is a compact, power-dense, high-torque-speed reducer designed for reliable performance. No other reducer can match it in design, performance, or value. With a rugged, ductile iron housing, this reducer meets or exceeds AGMA standards and features a premium sealing system as standard. It's a Helical in-line base mount gear reducer offering flexibility in mounting design, increased horsepower, and torque ratings with improved power density.
Explore the catalog
MagnaGear
The MagnaGear XTR reducer's simple, power-dense design offers superior torque ratings and assures increased reliability in a more compact, economical, and heavy-duty package. MagnaGear XTR is manufactured to provide maximum reliability in tough applications and to improve your total cost of ownership.
Explore the catalog
Controlled Start Transmission
The Controlled Start Transmission (CST) system is a multi-stage gear reducer combined with a wet brake acting as a clutch unit and a hydraulic control system. It's designed for smooth-starting high inertia loads. The output torque from a CST unit is controlled via a hydraulic control system. By varying the hydraulic pressure applied to the clutch, the output torque can be varied.
Dodge services and upgrades are available for Dodge CST gear reducers. All work is performed using genuine factory parts built to factory specifications by Dodge factory employees.